---
Should you need to check your student out early, please do so prior to 2 pm (1 pm on Wednesdays). Thank you for your cooperation.
---
Adventure Awaits! Literacy Week is coming January 27- February 3. We have planned an exciting spirit week to celebrate our love of reading at Mill Creek. The annual Literacy Night will take place on Monday, February 3. Literacy week spirit events and reading logs will be shared in the coming week. Literacy Night flyer can be found here.
---
Middle School Transition Nights
6th grade Transition Night (current 5th grade students) – Monday, Jan. 27 – 6:00 – 7:00 pm in the cafe.
7th & 8th grade Transition Night (current 6th & 7th grade students) – Wednesday, Jan. 29, 6:00 – 7:00 pm in the Cafe.
---
ESE Parent Advisory Meeting, February 4, 2020 ESE PAC 2-4-20 Flyer
---
National Junior Honor Society – Visit our new National Junior Honor Society (NJHS) website to learn about the organization and find out if you are eligible to become a member.
---
Yearbooks are now on sale. The cost is $30 from now until January 17 at which time the price will increase to $32. We will not have extra yearbooks available for purchase at the end of the year so please purchase now. You can order online at Leonard's  and enter access code C480720. Yearbook Order Form 2019
---
Testing Schedules
19-20 assessment calendar
---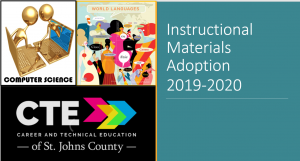 Click the above icon for more information regarding the completed review process for the 2019-2020 Instructional Materials Adoption for Career and Technical Education, Computer Science, and Foreign Languages resources. The final recommendations are included on the attached document and are posted online at http://www.stjohns.k12.fl.us/media/instructional-resources-media-services/textbooks/adoption
---
2019-2020 Code of Conduct can be found here.
---
Use of Service Animals by Individuals with Disabilities
---
Mill Creek Academy Mission Statement
Mill Creek Academy will inspire our students to become lifelong learners with integrity.
Mill Creek Academy Vision Statement
The Learning Community of Mill Creek will ensure that ALL achieve their fullest potential through challenging, purposeful learning opportunities where lifelong learning becomes a passion!
Mill Creek Academy SPAR Report
St Johns County School District Mission Statement
The St. Johns County School District will inspire good character and a passion for lifelong learning in all students, creating educated and caring contributors to the world.
We appreciate our Business Partners!